Do you feel like you need a quiet break from your hectic everyday life? A place to relax, unwind, reflect and perhaps turn a new page in your relationship with yourself, all while immersed in the nature? Whether it is a new page or just a relaxing paragraph, ReLeaf Retreats & Repro Eko Farm are here to help you relax, quiet the mind and restore the lost balance. Join us for our 5 Days Yoga & Cooking Retreats on Repro Eko Farm in beautiful Croatia!
ReLeaf Retreats are created to bring together our love for yoga, meditation, healthy organic food, the comfort of nature and our wish to share these jewels with others. Our retreats are designed to relax, activate and nurture the body, clear the mind and bring emotional relaxation and relief. Our approach is non-dogmatic and gentle, together we will experiment with a different way of being, quiet the mind and open ourselves to the beauty of the present moment.
Join us in exploring the benefits of taking the time for yourself with time to observe, reflect and to reconnect with the nature. ReLeaf Retreats are organised in small groups and accompanied by delicious homemade vegan and vegetarian food that is purely organic and mostly grown directly on Repro Eko Farm.
There will be plenty of time to relax, join the cooking class on the farm, go for a walk or a hike, or cycle through the local countryside. If you wish you can also put your hands in the ground and work with plants in our organic garden. The retreats are opened for anyone who would like to practice with us, no previous experience is necessary. 
We can also help organise day trips to Plitvice Lakes National park, Zagreb old town or Opatija, a charming town on the Adriatic coast. And if you want to take it easy and explore the surrounding quiet rural Croatia, we are also glad to help.
So how about taking the time for yourself this spring or summer? An opportunity to relax, regroup and recenter in the natural surroundings of beautiful Croatia? We would love to have you with us! 🙂
---
Dates & Prices for Yoga & Cooking Retreat in Croatia
Spring Yoga Retreat
19 May – 23 May 2018
Summer Yoga Retreats
30 June – 04 July 2018
07 July – 11 July 2018
Price per person for a 5-day retreat: Shared room: 450€ / Private room: 630€ 
Price per person for a 3-day retreat: Shared room: 270€ / Private room: 370€ 
*Price includes accommodation, all meals and beverages, all yoga classes and a cooking class. 
How to reach us? It is easiest to reach the farm by car. If you are flying to Zagreb airport, we can arrange transport from the airport or you can book a cab by yourself directly at the airport. Driving time from the airport to the farm takes around 30 minutes. Alternatively, you can take a train from Zagreb central station to Jastrebarsko and we can pick you up at the train station in Jastrebarsko. The trains leave approximately every hour and they reach in 30 minutes.
If you have any questions about our retreats, feel free to contact us!
Nina is a lover of life and its adventures. Nature, sustainable living, cooking, travelling,  yoga and meeting different people from all parts of the globe, all play an important part of her life. Nina has lived in 4 different countries in the last 7 years, and has good friends which she considers family in many more. She earned a PhD in sustainable agriculture on a collaboration between Swiss agricultural research institute and Hohenheim university in Germany in 2017. Yoga and mindfulness helped her a lot in coping with difficulties, finding inner space and discovering balance in the moment, which is why she loves sharing these ancient wisdom techniques with others. She tried many interesting approaches to yoga and meditation and finished a multi-style yoga and meditation teacher training course in India. She believes that each person is special and each life path unique. Her approach to yoga is peaceful, caring, respectful and, above all, aimed at increasing the awareness of the body, mind and emotions. She enjoys spending time at her parents' farm in Croatia and wants to share the beauties of a simple farm life, peaceful nature, delicious food, gentle yoga and meditation with others.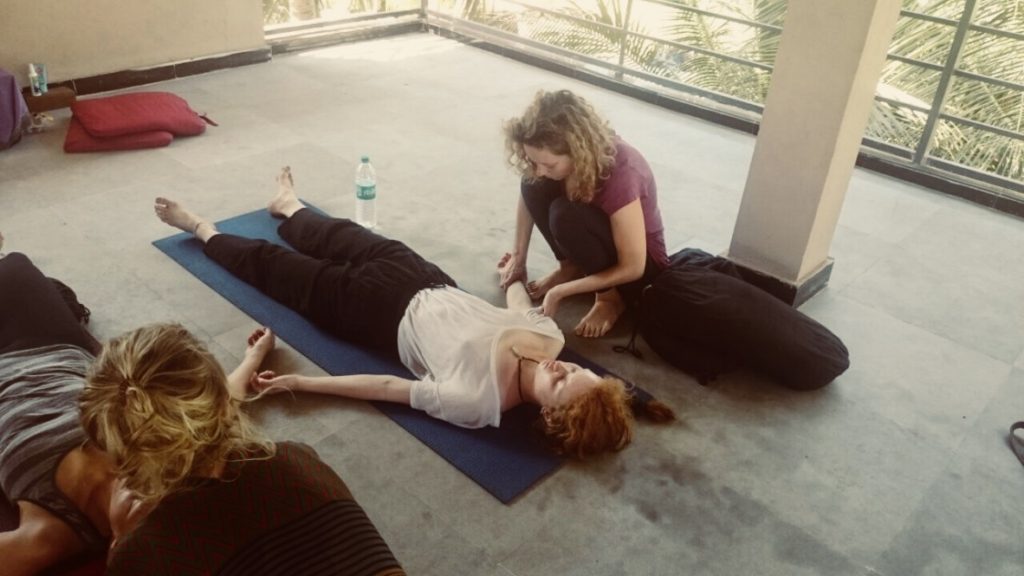 "I had the fortune to spend some days at the Repro Eko Farm in different times of the year and if I would need to describe it with one word I would say magical! The house has plenty of cozy corners where to rest with different ambiances that had been perfectly preserved through generations. It is a place to relax surrounded by nature and eat honest great vegetarian food, mostly own produced, it is just the perfect place to enjoy with all your senses. Nina is a very perceptive yoga teacher that brings during the time together exactly what you need. She makes sure that you relax and enter deep in the practice. It has been very useful to hear from her the specific benefits for each pose and to learn how to give the right amount of effort without pressure and at the same time to observe and accept my own limits!"
"Repro Eko Farm is a wonderful, quiet place, ideal for relaxation and of course yoga! We had a blast practicing yoga with Nina, who is a true yoga teacher! Hosts were very welcoming, food was delicious, and surroundings perfect for walking and exploring nature. If you are looking for a place where you can eat healthy, meditate, and spend time outdoors, this is definitely a place for you!"
"My time spent at Repro Eko Farm was a vital stop off, a place where I was able to charge my mental, physical, and spiritual batteries. The hosts provided me with the oasis I had been craving after a hectic couple of months travelling Europe. My stay offered a lovely environment, beautiful surroundings, delicious and wholesome vegetarian food (I'm still daydreaming about the smoked seitan burgers!), and the space to reconnect with nature, and of course practice yoga with the wonderful Nina. I highly recommend this place to anyone seeking a peaceful and serene atmosphere in which to unwind and recharge."